Pacal's Rocket
Pacal's rocket behoort tot de nieuwe reeks van familiespellen die Piatnik sinds 2014 aan het uitbrengen is. Zo was er in 2014 Venezia 2099 en in 2015 Pacal's Rocket. We zijn al benieuwd met welk spel ze dit jaar op de proppen komen.
In Pacal's Rocket gaat elke speler pyramides bouwen in de districten van de oude Maya stad Palenque. Afhankelijk van een dobbelsteenworp in de huidige ronde, mag de speler zijn ruimteschip bewegen of niet. Na deze beweging mag de speler 1 energiesteen van zijn eigen kleur op zijn ruimteschip gooien, en onder bepaalde restricties mag hij er nog één werpen op een ruimteschip van een tegenstander. Als je met een ruimteschip beweegt zullen alle energiestenen aan boord blijven.
Een speler mag een piramide bouwen indien zijn energiestenen in een bepaald sterrenstelsel op het speelbord geplaatst zijn. In dat geval bouwt hij de piramide en nadien neemt hij zijn gebruikte energiestenen terug. Door een piramide te bouwen krijgt de speler overwinningspunten, indien hij de eerste is die daar een piramide bouwt, of je krijgt punten als je in dat district de meerderheid hebt.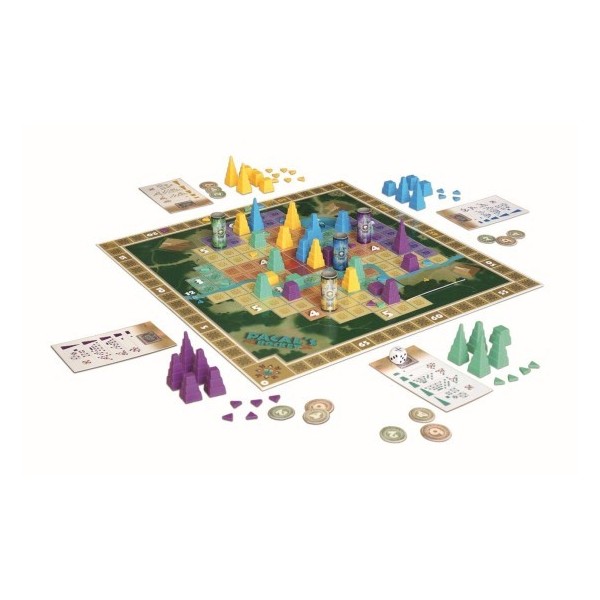 Dit spel werd geschonken door
Piatnik
en is vanaf april te spelen bij Het Geel Pionneke.
Aantal spelers : 2-5
Leeftijd : vanaf 8 jaar
Speelduur : 60 - 90 minuten