The Space Adventure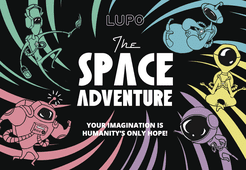 De mensheid wordt voor de verandering weer eens bedreigd. Aan jou de taak om iedereen te redden. Alles wat je daar voor nodig zult hebben, is je eigen fantasie. Je gaat samen met je medespelers op zoek naar een nieuw plek waar de mensheid kan gaan wonen.
Dit spel kent geen winnaars of verliezers, heeft nagenoeg geen regels en je wordt zelfs aangemoedigd om je eigen regels te maken. Je zult ontdekken dat je fantasie geen grenzen kent in dit spel.
Dit spel is vanaf maart te spelen bij Het Geel Pionneke.

Aantal spelers: 3-25
Leeftijd: vanaf 8 jaar
Speelduur: 60 minuten

Foto's van dit spel zijn te vinden op onze fotoblog
Dit spel is geschonken door LUPO World