Smiley Games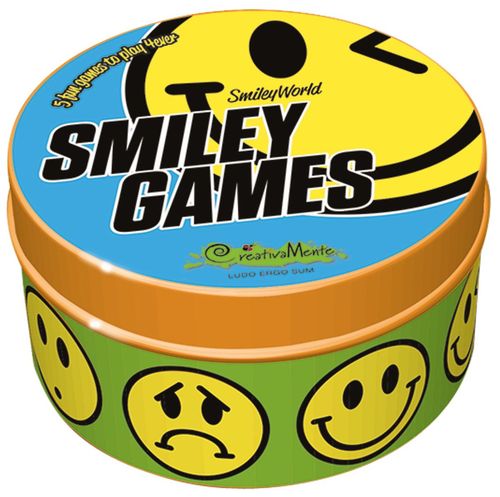 In dit kleine ronde doosje met de naam Smiley Games kan je 5 verschillende spellen terug vinden. Het spel maakt gebruik van 6 verschillende smiley kaarten, die bestaan uit gelukkige, kwade, knipogende, verdrietige, verbaasde en verliefde gezichtjes. Deze kaarten hebben 6 verschillende kleuren. Verder vinden we nog een speciale dobbelsteen in het doosje.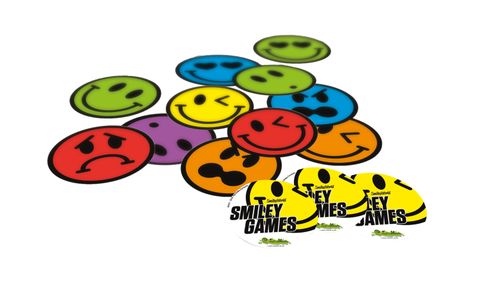 De 5 verschillende spellen stimuleren het geheugen, reflexen en visuele perceptie, maar ook strategie, concentratie en observatie zal van belang zijn om dit spel te kunnen winnen.
Het eerste spel heet Find it! : Jij tracht de eerste speler te zijn om een aantal kaarten te winnen door deze om ter snelste aan te duiden.
Het tweede spel heet That's Mine! : Win het hoogste aantal kaarten door je hand om ter snelste op een kaart te leggen.
Het derde spel is Shout! : Win de meeste kaarten door de naam van de speler luidop te roepen die een kaart heeft die overeenkomt met een element op jou kaart.
Spel vier : Domino : Speel als eerste speler al je kaarten weg met deze domino variant.
En tot slot spel vijf : The last one! : Speel als eerste je kaarten weg door de kaarten met overeenkomstige kleuren of uitdrukkingen af te leggen.
Dit spel werd geschonken door
CreativaMente srl
en is vanaf juli te spelen bij Het Geel Pionneke.

Aantal spelers : 2 - 10
Leeftijd : vanaf 5 jaar
Speelduur : 15 - 30 minuten