Qango
Qango is een abstract familiespel, makkelijk aan te leren en nog sneller te spelen. Binnen 10 minuten is bekend wie de winnaar is geworden van dit kleurrijke spelletje.
Door om beurten schijven te plaatsen op het speelbord proberen de spelers een horizontale, verticale of diagonale rij te vormen of een voledd
Lukt het je om vier schijven van dezelfde kleur in de vorm van een vierkant te leggen of vijf schijven in een rij, dan ben je onmiddellijk de winnaar geworden van Qango.
Is het speelveld volledig gevuld en is er nimand in staat geweest om een rij of vierkant te maken, dan komt het neer op een gelijke stand.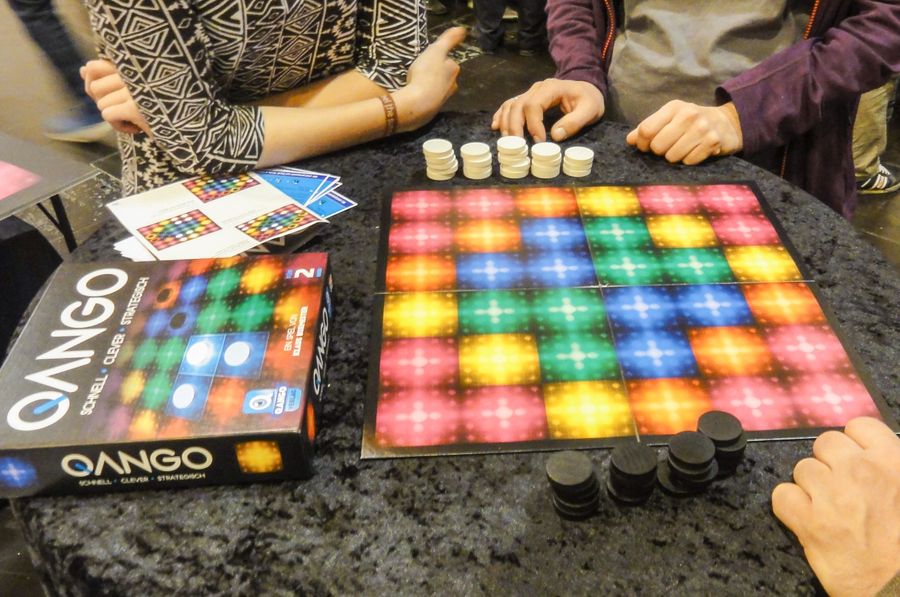 Het spel heeft een dubbelzijdig speelbord, waardoor je variantie aan kunt brengen in de moeilijkheidsfactor.
Aantal spelers: 2
Leeftijd: Vanaf 8 jaar
Tijdsduur: 10 minuten
Dit spel is vanaf augustus te spelen bij Het Geel Pionneke
Dit spel is geschonken door Qango Verlag