Railroad Ink: Blazing Red Edition
Het doel van het puzzelspel Railroad Ink is om zoveel mogelijk uitgangen op je bord te verbinden. Iedere ronde wordt een set dobbelstenen geworpen om te bepalen welke soorten wegen en spoorlijnen er deze ronde voor de spelers beschikbaar zijn. Elke speler dient alle beschikbare routes op zijn persoonlijke bord te tekenen en zo de uitgangen te verbinden. Aan jou is de taak om dat beter te doen dan je tegenstanders.
Hoe meer uitgangen je correct weet te verbinden, des te meer punten je scoort aan het einde van het spel. Maar let op, voor iedere onvolledige route krijg je puntenaftrek. Het is dus belangrijk om zorgvuldig te plannen. Ga je voor het geluk van de dobbelstenen, of speel je op zeker en creëer je korte, eenvoudige routes?
Net zoals de Deep Blue Edition, bevat ook de Blazing Red Edition twee uitbreidingen met extra dobbelstenen. In deze editie worden de uitbreidingen lava en meteoor toegevoegd. In de uitbreiding lava, dien je te proberen om de lavastroom in te dammen voordat deze je routes vernietigt. Als je speelt met de uitbreiding meteoor, dien je rekening te houden met de enorme ravage die een meteoorinslag met zich meebrengt.
Door beide edities van Railroad Ink met elkaar te combineren, kun je dit spel met 12 personen spelen. Of met nog meer als je nog meer spellen hebt. De enige limiet hierin is het aantal spelersborden.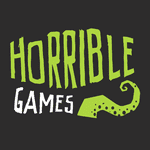 Aantal spelers: 2-4
Leeftijd: Vanaf 8 jaar
Speelduur: 30 minuten

Railroad Ink: Deep Blue Edition is vanaf november te spelen bij Het Geel Pionneke

Dit spel is geschonken door Horrible Games