The Witches of Cernégula
De legende vertelt ons dat een groep heksen samenkomt in de lagune van Cernégula en dat zij daar hun geheime vergaderingen houdt. Tijdens deze vergaderingen wordt ieders kookkunst besproken.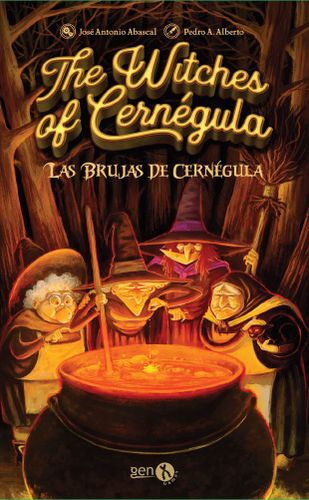 Het doel van dit spel is om meester-heksen-kok te worden. Tracht de aandacht te trekken van Jamie Oliver. Om dit voor elkaar te krijgen moet je de juiste ingrediënten weten te verzamelen, want alleen zo lukt het je om een perfect drankje te bereiden. Maar hier zit direct een addertje onder het spreekwoordelijke gras. De kruiden zijn te verkrijgen door de goede actie uit te spelen en deze is helaas niet altijd beschikbaar.
Kook in je kookpot uitgebreide magische recepten en wordt zo de meest ervaren heks en verdien de meeste punten!
Aantal spelers: 2-4
Leeftijd: Vanaf 10 jaar
Speelduur: 45 minuten
Dit spel is vanaf juni te spelen bij Het Geel Pionneke
Dit spel is geschonken door Gen-X Games