Doxie Dash
In Doxie Dash kan je niet ongestoord het varken uithangen, maar de (das)hond. Kies één van de vierpotige karakters (elk met hun speciale eigenschappen) en leef je volledig in; punten scoor je door je dominantie af te dwingen (tegenover bv. de stofzuiger) grote boodschappen te droppen op dure tapijten (hoe meer hoe beter), of te knabbelen op rondslingerende kleren.
Iedere speler krijgt elf handkaarten waarvan hij er eentje kiest en de rest ervan doorgeeft aan de speler links van hem. De gekozen kaart wordt 'open' op tafel gelegd. Deze fase gaat door tot alle kaarten openliggen. Na het eventueel vervangen van ongewenste kaarten probeer je door het combineren ervan zoveel mogelijk punten te scoren.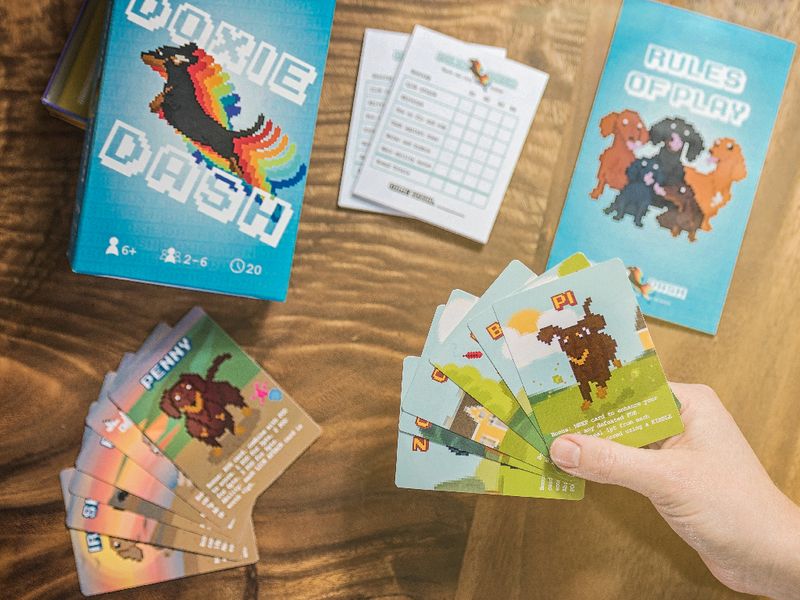 Een snel aan te leren spel, met kleurrijk 'pixel art'-artwork en een grappig thema, klinkt als een doosje dat vaak op onze tafels zal verschijnen. Probeer een rondje, en ontdek wie de beste is, want (zo vertelt de speldoos): 'there can only be one Wiener'.
Dit spel werd geschonken door
Mackerel Sky games
en kan vanaf mei gespeeld worden bij Het Geel Pionneke.
Aantal spelers: 2 - 6
Leeftijd: vanaf 6 jaar
Speelduur: 15 tot 30 minuten