Tiga
Een (letterlijk) klein en fijn spelletje zonder ellenlange spelregels (alle uitleg past zelfs op de binnenzijde van het doosje). Tiga (Indonesisch voor 'drie') bestaat uit slechts negen tegels, waarop drie symbolen in drie kleuren tweemaal afgebeeld staan. Eens deze in een 3x3 speelveld gelegd zijn kunnen de twee spelers de strijd starten.
Per beurt kan één kaart worden omgedraaid of worden geruild met een andere kaart, horizontaal of verticaal aanliggend in het rooster. Doel van het spel is om zo snel mogelijk vijf keer een (horizontale of verticale), rij te vormen die bestaat uit één symbool in drie verschillende kleuren of drie symbolen in éénzelfde kleur.
Een spel dat snel gestart kan worden, en met de beperkte speelduur een ideaal 'tussendoortje' is. Ondanks de lage instapdrempel komt er wat tactiek bij kijken en heeft het spel een hoge herspeelbaarheidsfactor. Niets dat jullie tegenhoudt om meteen een tweede rondje in te zetten !
Dit spel werd geschonken door
F-hein spiele
en kan vanaf mei gespeeld worden bij Het Geel Pionneke.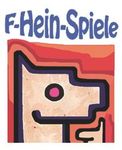 Aantal spelers: 2
Leeftijd: vanaf 7 jaar
Speelduur: 5 tot 15 minuten