Crazy Ducks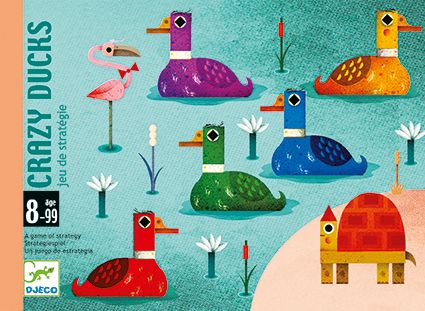 In het kleurrijke 'Crazy Ducks'met de kubistisch aandoende dieren krijgt elke speler een 'geheime eend' in een bepaalde kleur toegewezen. Het is aan de andere spelers om doorheen het spel te ontdekken en te raden wie welke gekleurde eend verbergt.
Elke speler krijgt drie handkaarten waarop telkens een flamingo, schildpad of eend afgebeeld staat. Hierna legt de actieve speler in zijn beurt twee of drie handkaarten bij aan de in het midden liggende startkaart (en maakt zo een rij of een kolom). Hierna vertelt de volgende speler hoeveel poten de afgelegde dieren volgens hem tellen. Een flamingo telt altijd één poot en een schildpad steeds vier. Een eend heeft (uiteraard) twee poten, al telt de 'geheime'eend wel voor drie poten mee.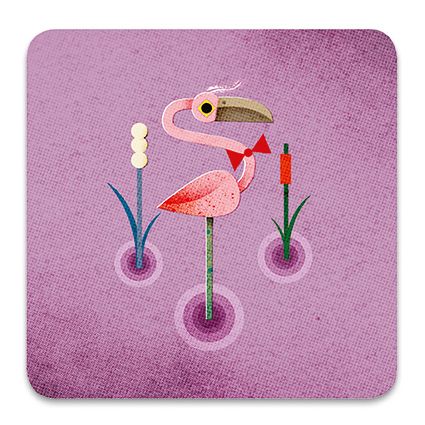 Aan de hand van deze hint proberen de andere spelers te achterhalen wie welke kleur eend gekregen heeft. Ben je zeker van je stuk en spreek je een juiste gok uit, krijg je alle kaarten die op dat moment op tafel liggen. Klopt de gok niet, gaan alle opengelegde kaarten naar degene waarover de gok ging. Hierna start een nieuwe ronde. Als alle kaarten opgespeeld zijn wint de spelers met de meeste verworven kaarten het spel !
Dit spel werd geschonken door
Djeco
en kan vanaf augustus gespeeld worden bij Het Geel Pionneke.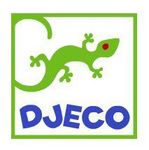 Aantal spelers: 2 - 4
Leeftijd: vanaf 8 jaar
Speelduur: 15 - 20 minuten