Grumantra of Dalhalla: Varna
Als je eenmaal de rang van Adhipa hebt bereikt, is er in de esoterische wereld van Dalhalla veel te doen. Het belangrijkste is echter dat je jouw capaciteiten om Vishra te beheersen verbetert. Hiervoor is een mystieke trainingsmethode uitgevonden die later zelfs bij de allerjongsten van Dalhalla populair werd.
Deze training draagt de naam Varna. In dit denkspel test elke Adhipa zijn mentale kracht tegen een andere Adhipa om zo de kracht van Vishra te overwinnen. In Grumantra of Dalhalla: Varna kun je zowel elementen van tegengestelde kracht creëren als vernietigen door meer kracht aan de elementen toe te voegen. Dit werkt voor elk element anders.
Aantal spelers: 2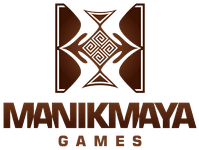 Leeftijd: Vanaf 15 jaar
Speelduur: 30 minuten

Grumantra of Dalhalla: Varna is vanaf november te spelen bij Het Geel Pionneke

Dit spel is geschonken door Manikmaya Games